Founding Spirit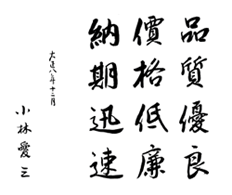 Mr.Aizo Kobayashi, the founder of the Company, was among the first to adopt Ford's mass production system for the production of transformers, and tried to offer high quality pole-mounted transformers at surprisingly low prices that the industry had never seen through the specialized mass production of transformers, which was revolutionary at that time. The founding spirit of "Superior Quality. Reasonable Price, and On-Time Delivery." which was championed by the founder at the time of the establishment of the Company, has been passed on and upheld by the Company to date.
Corporate Philosophy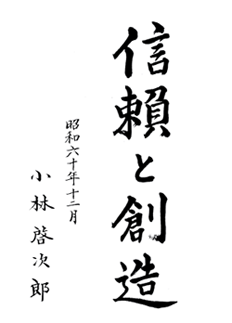 In 1985, DAIHEN was in the process of expanding its business by proactively entering into new business fields other than transformers, such as welding machines and robots. In that year, with the aim of achieving further business growth. DAIHEN changed its company name to "DAIHEN Corporation" and, at the same time, established the corporate philosophy of "Reliability and Creativity." a basic standard of conduct that all employees are required to follow in their work. DAIHEN aims to achieve healthy growth and contribute to society by continuing to create new value while upholding the relationship of trust it has established with its stakeholders.