D-Broad
Wireless Power Transfer System for AGV
Achieving AGVs' 24 hour continuous operation for improving productivity.
Features
●

Stable and highly efficient power transfer is possible even separated 40mm between coil to coil.

●

Easy attachment to your existing AGV

●

Maximum 60A/30A Quick Charging. *

●

Energy Saving, Approx. 26%. *

*

When using a capasitor unit.
Product Configuration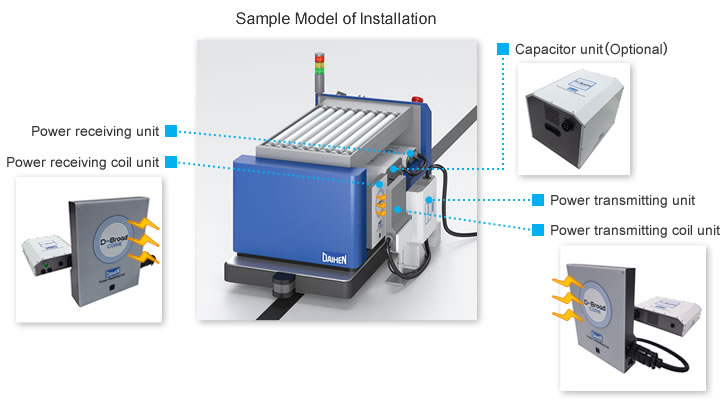 Specifications
Power transmitting unit
Number of phases
3
3
1
Rated input frequency
50/60Hz
50/60Hz
50/60Hz
Rated input voltage
AC200/220V±10%
AC200/220V±10%
AC200/220V±10%
Rated input power
4kW
2kW
1.3kW
Required power supply capacity
4.6kVA
2.3kW
1.5kW
Rated power factor
0.9 or more
0.9 or more
0.9 or more
Weight
7.5kg
7.5kg
8kg
External dimensions (W×D×H)
343×421×130mm
(Excluding protrusions)
343×421×130mm
(Excluding protrusions)
340×230×150mm
(Excluding protrusions)
Power transmitting coil unit
External dimensions (W×D×H)
291×31×396mm
(Excluding protrusions)
380×38×150mm
(Excluding protrusions)
230×45×155mm
(Excluding protrusions)
Weight
3kg
3.7kg
2kg
Power receiving unit
Output voltage range
12 to 57V
12 to 60V
12 to 30V
Maximum output current
60A
30A
20A
Weight
4kg
2.5kg
1.6kg
External dimensions (W×D×H)
354×261×80mm
(Excluding protrusions)
350×180×60mm
(Excluding protrusions)
145×135×155mm
(Excluding protrusions)
Power receiving coil unit
External dimensions (W×D×H)
291×31×396mm
(Excluding protrusions)
380×38×150mm
(Excluding protrusions)
210×45×155mm
(Excluding protrusions)
Weight
3kg
3.6kg
1.5kg
Optional
57F Capacitor unit
Capacity
57F
Output voltage range
24V±10% or 48V±10%
Maximum output current
67.2A(24VDC), 33.6A(48 VDC)
Weight
20kg
External dimensions (W×D×H)
260×346×284mm
(Excluding protrusions)
171F Capacitor unit
Capacity
171F
Output voltage range
24V±10% or 48V±10%
Maximum output current
67.2A(24VDC), 33.6A(48 VDC)
Weight
40kg
External dimensions (W×D×H)
398×500×359mm
(Excluding protrusions)