DISOLA POWER 500HV-HEX
500HV-HEX (P500JHL2-A01)
500MV-HEX (P500JHL2-B01)
500HV1-HEX (P500JJL2-B01)

Outdoor "Air-conditioner Free"
solar inverter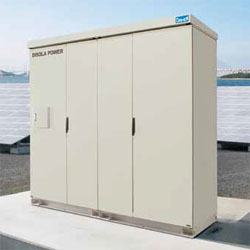 Features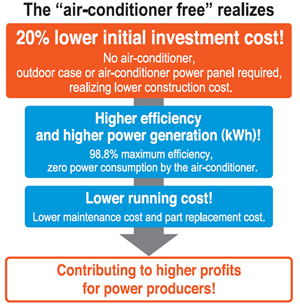 ●

Realizes industry-leading 98.8% conversion efficiency (1,000V input / 500kW) (*1)
(1000V入力/500kW)

●

World's first air-heat exchange (HEX) cooling system.
Great energy conservation effect compared with conventional air-conditioning systems.

●

Minimum number of replacement parts required (Long-life parts used for a main circuit. No dust-proof filter required owing to the enclosed structure.)

●

Installable in an area subject to salt damage owing to a highly weaather-resistant stainless-steel enclosed cabinet.
*1 P500JHL2-A01
Specifications
Type
P500JHL2-A01
P500JHL2-B01
P500JJL2-B01
Output capacity
500kW
Installation site
Outdoors
Insulation system
Transformer-less
Max. input voltage
1000Vdc
Operating DC voltage range
460〜850Vdc
430〜850Vdc
520〜950Vdc
Rated output voltage
300Vac
360Vac
Frequency
50/60Hz
Power conversion efficiency (Max. efficiency) *2
98.8%
98.6%
Dimensions(W)×(D)×(H)
2400×1100×2210mm
Rough weight
1950kg
FRT function
○
Recorder function
○
*2 Auxiliary equipment loss excluded